6 in 1: The STILL cubeXX - The Multitalent
How many different vehicles does an efficient warehouse need? Which is the most suitable device for the respective application? These are questions that anyone interested in buying a new industrial truck is faced with. The cubeXX provides the answers. It offers maximum flexibility due to the combination of six proven types of vehicles.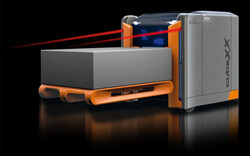 Horizontal order-picking trucks
The main task of an order-picking truck is the compilation of individual items to make one order. Due to the autolift function of the cubeXX, by means of which the goods are automatically lifted to a convenient working height, the parts can be efficiently and conveniently picked. Hence, the cubeXX offers all functions of a modern order-picking device.



High-lift pallettrucks
These devices are predominantly used for short-distance transport – for example for pallets.

Due to their mast, high-lift pallettrucks have the possibility to stack the pallets or deposit them in the rack. Load supports guarantee a firm vehicle standing here.

The cubeXX can adopt the function of a high-lift truck with its Caster wheels and the extendable mast.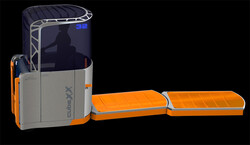 Tugger train
In the sector of fast and efficient horizontal transport, the performance of a tugger train is unbeatable. Due to the simultaneous transport of several load carriers, routes can be optimised. That is the very reason why the tugger train is frequently used in handling areas for production supplies. The cubeXX has an integrated towing system that the tugger train elements can be hitched to.



Truck for double-stack use
Pallets with non-stackable goods must generally be transported individually.

If cost-intensive distances are to be avoided, the use of a double-decker device is indispensable. Trucks for double-stack use have two levels.

This enables two pallets to be handled simultaneously. By means of extending the caster wheels and the double-stack, the cubeXX becomes a fully-fledged truck for double-stack use.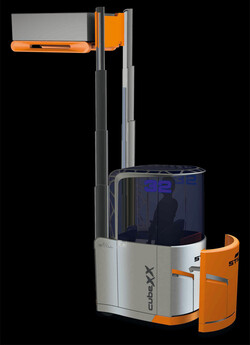 Counterbalance forklift
Wherever handling performance or speed is called for, such as when loading and unloading HGVs or when stacking and transporting over medium distances, forklift trucks are the absolute number one.

Due to the retraction of the caster wheels, the accommodation of a counterweight and the extendable mast, the cubeXX represents an optimum electric forklift truck.