Highlights: cubeXX answers today the questions of tomorrow
What properties must an industrial truck have so that it is prepared for the logistical future? How must it look and operate? The cubeXX provides an answer to all logistical challenges that result for logistics from megatrends. Fully in keeping with the motto "first in intralogistics" this vehicle provides a multitude of possibilities for optimizing the working day of tomorrow.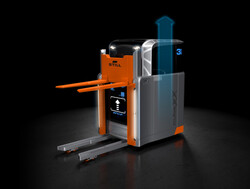 Extendable driver protection cab
The cubeXX's cab is retracted in standby mode or during an automated journey. If the truck is operated manually, the cab extends and provides the driver with enough space for a standing/leaning seat and, furthermore, the possibility of turning through 180° for a change in direction.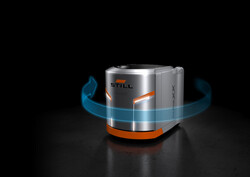 360° turn
The wheels of the cubeXX can be turned on full lock so that the truck is able to turn on the spot. This 360° turn makes the vehicle extremely easy to manoeuvre. A 90° turn of the wheels enables the cubeXX to move sidewards, which means parallel to warehouse rackings. This allows warehouse architecture to be extremely space optimized.
Forks
Storage space is becoming increasingly more expensive. The forks of cubeXX can therefore be folded in so that they are flush with the mast when they are not in use. If the roof is also retracted, it is extremely small and manoeuvrable. Thanks to this, wide warehouse aisles can be avoided and the space requirement can be reduced.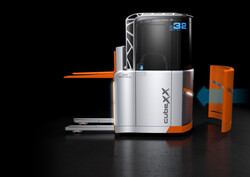 Counter weight
If cubeXX is unable to use the caster wheels, e.g. when unloading an HGV or on an uneven yard surface, an optional counterweight can be picked up. If it is no longer necessary, it can simply be uncoupled from the truck.This reduces the weight and consumption. Resources and the environment are conserved.